Earnings season in my opinion are the most fun and interesting times for investors like you and I. Giving us fresh news that spice things up from the previous boring weeks. Not to mention the higher volatility that comes with earnings which could give some juiced up gains…
Over the next 4 weeks major companies will be releasing their Q3 earnings reports which cover Q2 financials & data.
Here is a website that I use to see what dates companies release their earnings. This week reports are below.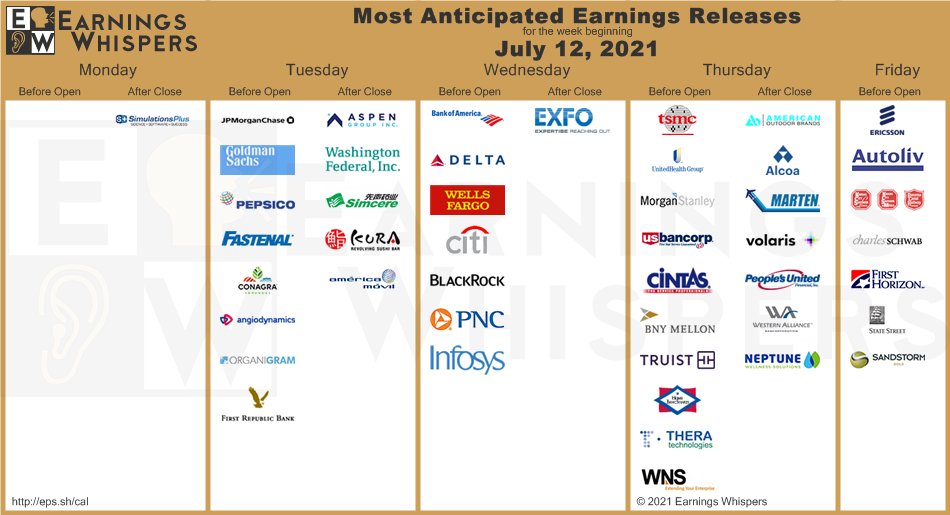 What To Look For
Each earnings season has it's own unique things that will be on the look out by Wall Street and other investors. For this season it's 2 major points.
How have companies "bouced back" from the global pandemic 1 year ago? What changes have they made to adapt?
With cost of materials/goods being so high this year, have companies margins been squeezed?
I will specifically be looking at profit margins and comparing them to past quarters.
"A company that can adapt to changes in the economy and envirnment, is a great company."

– TJ Brescia
Retail companies will be under the spotlight as material costs are through the roof. I'm interested to see how the automakers report. Tesla, GM, and Ford specifically-($TSLA $GM $F). Since the semiconductor shortage threw a wrench into these business their reports should be interesting.
I will also be looking at AMD ($AMD) and Nvidia ($NVDA) closely because of the semiconductor issue. There entire business relies on it…
Why Profit Margins Will Be Extra Important
If you read my article on stock valuation tips you will know what I'm talking about.
Gross Profit=Revenue-Cost of Goods Sold (COGS)
Cost of goods sold takes into account the materials used to make a sale. Since lumber, metal, and other commodity costs are so high right now it could drastically lower Gross Profit.
Say Apple reports an increase in revenue from last quarter, but cost of goods increased more than revenue. On the surface it seems like everything is going well because revenue jumped. But in reality the higher cost of goods decreased profits. Which can be the case for many companies this time around. Profit means everything!!
Emerging Companies.
Companies that are still new and growing at fast paces will be looked at closely as well. Seeing how their business adapted to the pandemic changes can tell a big story moving forward.
For example, Uber ($UBER) recently made it known that they are charging higher rates on drives. Not only because of the labor shortage, but because they are ready to start being profitable. They recognized how many users they had which led them to raising rates. I will be looking to see how many users they are reporting for Q2, and forecasting moving forward.
Spotify $SPOT is another company that I want to keep an eye on. Their last earnings report was awful, showing poor user growth. The last three months has not been good for the company. I really like the product they give out but would like to see them add another piece to their business that will drive user growth. Right now subscriber fees and ad-revenue is not cutting it for me.
Volatility
Earnings can be scary sometimes with the increase in volatility. You can wake up one morning to see a stock you hold dropped 10% overnight.
Know this, just because a stock releases bad data does not mean it will continue to release bad data. It is big money managers over reacting to a piece of 3 month quarterly information.
If one of my stocks that I hold drops significantly from bad earnings I'll more than likely buy that dip. You should think of doing the same..