As investers we need ways to profit off of any opportunity that we see. Usually, people profit from real estate by buying and selling homes. But there are ways to do it in the stock market. What if we look at real estate related stocks, materials needed to build homes like lumber, roofing, paint, etc. What companies sell these directly? Thats for another day though. Today let me talk about Zillow ($Z).
Zillow ($Z)
Zillow is the industry leader in residential real estate buying and selling. Homeowners, agents, and property management companies, can list their properties for sale & rent on Zillows online platform. https://www.zillow.com/. From here, the buyers can view all the listings they desire for free.
How Does Zillow Make Money?
The business statement is split into 3 categories.
– Homes
– IMT
– Mortgage
Homes: As a company, Zillow will buy homes and flip them for a profit. Simple Enough.
IMT: Short for Internet, Media, & Technology. This section is ad-revenue generated from the company's website, combined with Zillows Premier Agent Program.
The Premier Agent Program is a tool real estate agents & brookers use to track insights, leads, and better advertise on their home listings. This is what the majority of IMT profits come from.
Mortgage: Zillow Home Loans is the area where Zillow is a real estate lender. Since 2018 the company has been a licensed lender. Just like buying or refinancing a home from a bank, Zillow makes money on the interest of the mortgage they give to their home buyers.
The Numbers Don't Lie
Numbers are in billions of $USD.
| | | | | | |
| --- | --- | --- | --- | --- | --- |
| | 2018 | 2019 | 2020 | 2021 | 2022 |
| Revenue | $ 1,334 | $ 2,743 | $ 3,340 | $ 5,453 | $ 7,992 |
| Growth | 23.8% | 105.7% | 21.8% | 63.3% | 46.6% |
| | | | | | |
| Gross Profit | $ 1,184 | $ 1,311 | $ 1,589 | $ 2,014 | $ 2,599 |
| Margin | 88.8% | 47.8% | 47.6% | 36.9% | 32.5% |
2018-2020 numbers according to Zillow 10-K. 2021 & 2022 expectations according to Yahoo Finance.
Zillow is expected to increase reveneues in 2021 by 63.3% compared to 2020. I believe this has everything to do with the high price tag on residential homes right now, and for the rest of the year.
The higher home prices are, the more Zillow earns on interest from mortgages. Plus, the higher profit from their Premier Agent Program mentioned earlier.
Risks
My biggest concern, which is not a big deal to me is the profit margins Zillow is creating. They are decreasing margins, however profits are still increasing. Due to the fact, Zillow reinvests so much of it's proft back into the company to try and expand at a faster rate. This is why Zillow can return 3-5x your money faster than other stocks will.
Decrasing margins could slow down operations. Other platforms with higher margins may seem more appealing to investers.
In Zillows 10-K they say a lack of technology limits them when compared to competition.
Competitive Advantage
Zillow is the industry leader when it comes to residential real estate advertising. They have the most users on their platform when compared to competitors. As investers, it is never a bad idea to invest in any industry leader. As the growth and stabalization of the company is proven.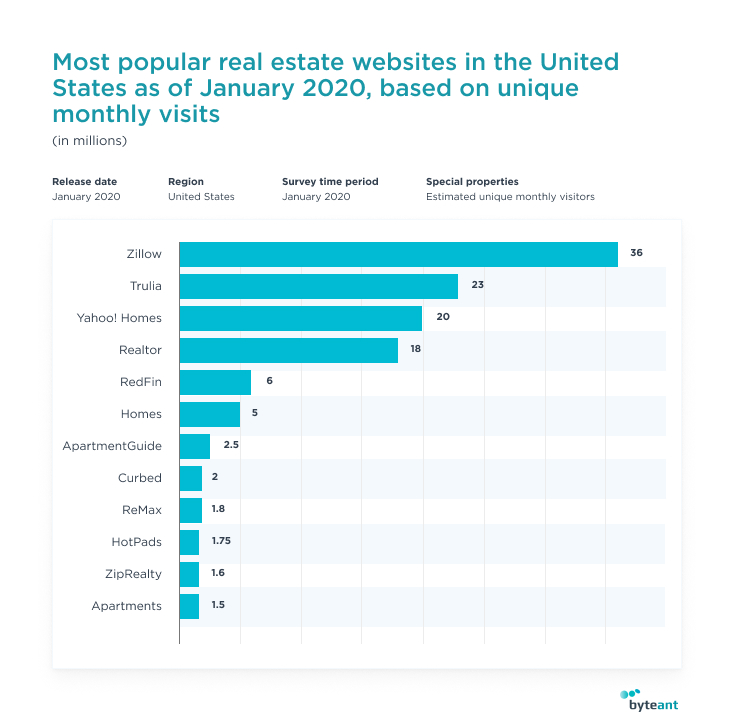 Zillow owns the second largest platform, Trulia, along with HotPads.
The balance sheet is very strong for Zillow as well. They have $3.9 million in short-term liquid cash, and $2.3 million in debt as of 12/31/2020. Anytime cash is greater than debt, it is a good sign.
The Stock
Right now 4/26/2020 ($Z) is trading at $141 a share, with a market cap of $33.6 billion. I can easily see this stock being $170-$190 a share by the end of 2021. Especially with the real estate market being so one-sided to sellers as we mentioned yesterday. Furthermore, end of 2022 this can very well be a $250 dollar stock.
This company has every right to be north of a $120 billion in market cap, being they are an industry leader.
I established a small position last week getting 5 shares at $130. I recommend you do the same. Establish a small position now, since the overall market is high. Because Zillow is well off its all time highs, it has more upside than the entire market, that is why I bought. But it can easilly go down with the market when corrections come. Make sure you have cash reserves to buy the dips.
Previous post on the current real estate market: https://thecommontrader.wordpress.com/2021/04/26/housing-bubble-2021/

Zillow 10-K: https://www.bamsec.com/filing/161764021000012?cik=1617640
Yahoo Finance: https://finance.yahoo.com/quote/Z?p=Z